Modern problems require modern solutions and for those who like to bet on sports, there are plenty of modern solutions. The question is, whether it is better to bet on such sports online, or in person?
The answer is not simple, because not all sports are the same and not everybody can travel the world and go directly to an event that they would like to witness in person, and then place their bet.
Horse racing is a popular punter's choice. Horse racing bets were traditionally placed in person but given the current circumstances of a global pandemic and the fact that not everybody can travel and place bets in person, many have to use online bookmakers.
Regardless of the global conditions, is it better to bet in person or to use online bookmakers, specifically for horse racing bets? Let us try and provide arguments for both cases.
Horse Racing Betting Was Always Done in Person
History has a way of telling us what to do and what not to do. People tend to repeat mistakes, even though they have done them previously. Some would call it madness, others a lack of attention and willpower.
However, horse racing and betting on the said races has been done in person whenever possible. The thrill and pleasure of watching a horse race live, when you have money on the line, is not something to be missed out on. Even when you are not betting, horse races should be viewed live, because they are that good to spectate.
It is a Modern World – No Need to Waste Time and Money
Since we have had access to applications, most of us have started using them on a daily basis. Daily application use, particularly if they are productive, can make our already productive days even more optimal. Why should one waste their time and money by going to a horse race in person, only to probably waste more money?
If we are already going to gamble, why not do it in a way that is convenient and simple? You can place bets out of your own bed, without even having to get up. That is about as convenient as it gets, which can help with saving money and maybe even earning more money.
Why Not Both, Whenever Possible?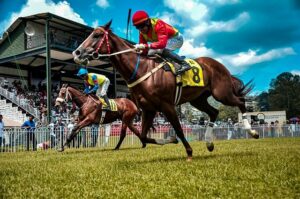 If you really like horse racing and betting, then you should look for the opportunity to do it both ways. Obviously, betting online is available from almost everywhere, but when you get the chance to do it in person, then you should take it. You should not travel halfway over the world to get the chance to spend money.
But, if there is a race happening locally, why not gather a bunch of friends and experience something special.
Horse races are very exciting and every affordable opportunity to see one should be taken. Until those opportunities arise, online betting is a great option.
Sports betting can be done online or in person, depending on whether you have an affordable opportunity to do so. Horse racing betting is not different in that regard.